Advisory for Salt Lake
Monday, May 8, 2023 - 7:50am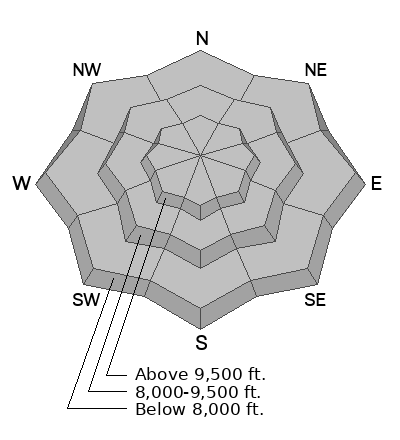 More Details
Advisory for Salt Lake
Monday, May 8, 2023 - 7:50am
CLICK HERE FOR MORE GENERAL INFO AND FAQ Observations and Avalanches Backcountry Emergency Procedures Instagram Facebook Get Forecast Email Previous Forecasts Contact via email Submit Observation
The National Weather Service Snow Page provides the best source of mountain weather stations.
Be sure to check out the observation and avalanches tab HERE.
Wet Snow
When cold, dry snow becomes wet for the first time, it almost always means wet sluffs (loose snow that fans outward as it descends). Larger wet slab avalanches can happen when melt water percolates through a layered, winter snowpack for the first time especially after 3 days of strong melting combined with no refreeze at night. Luckily, wet avalanches usually don't last forever because over time, days or weeks of percolating meltwater, all the layers in the snow disappear, and the snow becomes homogenous and dense, turning into a stable summer-like snowpack. Typically, this cycle of instability maturing into stability occurs first on the south-facing slopes in early spring, then progresses to the east and west-facing slopes in mid-spring, and finally, by late spring, the upper elevation north facing slopes go through a wet avalanche cycle. Finally, glide avalanches occur regularly in spring as the entire snowpack slides slowly on the groun
During the spring, there are typically three different avalanche problems: 1. Wet Snow: Wet loose avalanches, wet slab avalanches, and lastly glide avalanches. 2. New Snow: New storm snow instability as soft slab avalanches and loose dry avalanches. 3. Wind Drifted Snow: Wind slabs - soft or hard drifts of wind-blown snow.