Advisory for Salt Lake
Friday, December 8, 2023 - 4:16am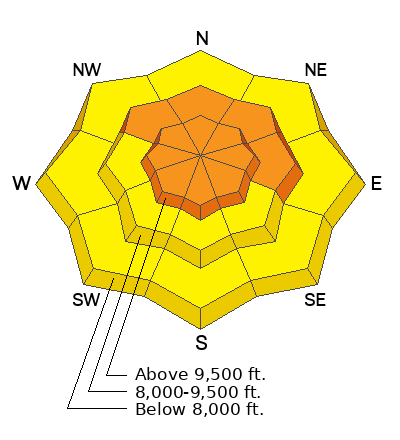 More Details
Advisory for Salt Lake
Friday, December 8, 2023 - 4:16am
CLICK HERE FOR MORE GENERAL INFO AND FAQ This information does not apply to developed ski areas or highways where avalanche control is normally done. This forecast is from the U.S.D.A. Forest Service, which is solely responsible for its content. This forecast describes general avalanche conditions and local variations always occur.
This Morning: As of 6 am, 6-9" of snow has fallen in the Cottonwoods and along the Park City ridgeline, bringing 24-hour snow totals close to one foot. Temperatures are a few degrees on either side of 15° F and winds are from the west/northwest, averaging in the teens with gusts in the 20's and 30's mph at mid-elevations, and averages in the 30's mph and gusting into the 50's mph at the upper-most elevations. Today: A Winter Storm Warning has been issued for the Wasatch Mountains through 11 pm tonight, with periods of heavy snow on a cold, northwest flow, delivering 10-14" by nightfall. Temperatures will remain in the mid teens F. and the gusty northwest winds will average in the teens and 20's mph with gusts into the 30's mph at mid elevations. Wind speeds at the upper elevations will average in the 20's and 30's while gusting into the 50's mph. This Weekend: We'll squeeze out a few additional inches of snow overnight, and the weekend will feature cold temperatures, partly-sunny skies, and light to moderate winds from the west/northwest.
The last reported avalanche from the backcountry occurred on Wednesday where a skier remotely-triggered (that is, triggered the avalanche from a distance) a wind slab in Radar Love Bowl, along the Park City Ridgeline, on a Northeast aspect at 9700'. This slab broke 18" deep and up to 125' wide, failing on the persistent weak layer down near the ground. This heat map shows avalanche activity in the Salt Lake mountains since December 1, the onset of when we began to overload the persistent weak layer.
New Snow
The new snow will be reactive today, especially during any period of heavy snowfall. Gusty northwest winds may also create sensitive soft slabs along exposed ridges at the mid and upper elevations. Watch for signs of cracking or sluffing in the new snow as indication of sensitive conditions. Avalanches in the storm snow will be 8-16" deep, although they may break down several feet deep on northerly-facing slopes where there is a buried persistent weak layer. Read more below.
The avalanche danger is CONSIDERABLE at the upper elevations and on mid-elevation slopes facing northwest through north and east. The avalanche danger is MODERATE at the low elevations and on mid-elevation slopes facing west through southeast. Watch for rapidly changing conditions as the avalanche danger could spike to HIGH during any period of heavy precipitation.