Advisory for Salt Lake
Friday, November 25, 2022 - 9:30am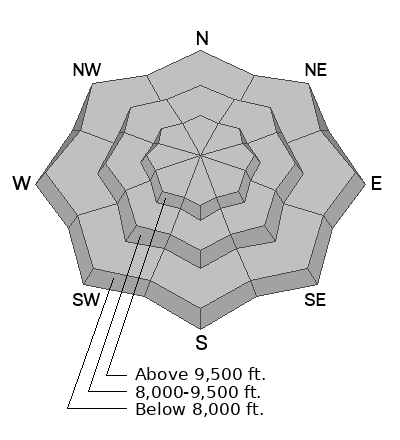 More Details
Advisory for Salt Lake
Friday, November 25, 2022 - 9:30am
CLICK HERE FOR MORE GENERAL INFO AND FAQ This information does not apply to developed ski areas or highways where avalanche control is normally done. This forecast is from the U.S.D.A. Forest Service, which is solely responsible for its content. This forecast describes general avalanche conditions and local variations always occur. Observations and Avalanches Backcountry Emergency Procedures Instagram Facebook Get Forecast Email Previous Forecasts Contact via email Submit Observation
Friday: Warm and sunny with temperatures rising into the 30's F. Winds will be from the north and northeast, averaging in the 20's with gusts in the 30's mph in the upper elevations. Saturday: A weak cold front with partly-cloudy skies and maybe a snow flurry or two. Temperatures in the 20's F with west/northwest winds. Sunday: Partly-cloudy with temperatures in the 20's F. In the meantime, backcountry travel remains generally easy with good riding conditions. Some wind and sun damage exists in the alpine and on solar aspects, respectively, but sheltered slopes hold soft recrystallized snow. Snow depths are 3-4' in the upper reaches of the Cottonwoods and 2-3' along the Park City ridgeline. Ogden snow depths are 2-3' while Provo trails with only 1-2' snow on the ground. Two weeks of cold, clear weather has drastically altered our snowpack where we now have weak, faceted snow and surface hoar on the surface: (McKinley Talty photo) On Wednesday, UAC staff was finding the weak snow at the surface was reactive to the small amounts of new and wind-drifted snow. With snowfall forecast for this coming week, this weak snow at the snow surface will likely create widespread and dangerous avalanche conditions. Right now is an excellent opportunity to take note and begin mapping the variability and surfaces that are currently covering the range, as this will soon enough become the base of our snowpack for the season. From Ogden to the central Wasatch to the Provo mountains, we have received several excellent observations. You can find them HERE. Please keep these excellent reports coming.
Normal Caution
Although the snow surface is very weak, the current snowpack is generally stable and human-triggered avalanches are unlikely, but small avalanches in isolated areas are still possible: A period of sustained winds from the north/northeast Wednesday and Thursday created isolated pockets of wind-drifted snow 12-24" thick in the upper elevations. These drifts may be stubborn and break above you. Sluffing in the dry, cohesion-less snow on steep aspects. Remember, even a small avalanche can be consequential in steep terrain.
The snowpack is generally stable and avalanches are unlikely. Watch for pockets of wind-drifted snow in upper elevations and sluffing in the dry, loose snow on steeper aspects as small avalanches are possible in isolated areas or extreme terrain With snow forecast for this coming week, expect a rising avalanche danger.