Advisory for Salt Lake
Tuesday, March 21, 2023 - 5:32am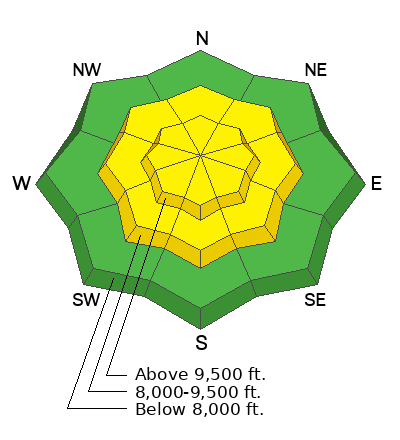 More Details
Advisory for Salt Lake
Tuesday, March 21, 2023 - 5:32am
CLICK HERE FOR MORE GENERAL INFO AND FAQ This information does not apply to developed ski areas or highways where avalanche control is normally done. This forecast is from the U.S.D.A. Forest Service, which is solely responsible for its content. This forecast describes general avalanche conditions and local variations always occur. Observations and Avalanches Backcountry Emergency Procedures Instagram Facebook Get Forecast Email Previous Forecasts Contact via email Submit Observation
A violent cold front ripped though the mountains yesterday, complete with ear-shattering thunder, lightning, graupel and roiling west to northwest winds. Happy first day of spring indeed. All told, storm totals added up to 8-14" of new snow in the Cottonwoods and Park city ridgeline with 0.55-1.14" snow water equivalent. With frontal passage, winds averaged 35-45mph from the west to northwest with some gusts to 70mph for a few hours. Currently, skies are overcast with temperatures in the teens and low 20s. Winds are light to moderate from the west. Along the highest ridgelines, they're averaging 20-25mph with gusts to 45. We'll have briefly clearing skies with clouds streaming in from the southwest and so we'll have just a moment to catch our breath before the next series of storms. A powerful storm system pushes down the door this afternoon through early Thursday that'll bring significant snowfall along with moderate to strong winds from the southwest. A rough forecast for snow totals is 15-25". A quick hitting cold front (with additional snowfall) arrives Friday with temperatures plummeting to near 0°F. Unsettled through the weekend with a break for a few days early next week. Whew!
Avalanche conditions became very reactive and touchy within the new snow with the passing of the cold front yesterday afternoon. Many observers reported some naturaling (Staples photo) on the steepest slopes and easy to trigger shallow loose dry and soft slab avalanches on a variety of aspects and elevations.
Wind Drifted Snow
12-18" thick soft slabs of wind drifted snow will be found along the upper elevations and to the lee of many mid-elevation ridglines. They will be most prevalent on north to east to south facing slopes and reactive to ski cuts. Look for smooth and rounded pillowy whales around terrain features. Cracking and collapsing that was evident yesterday during peak instability may not be evident today. Still, I would approach steep wind drifted terrain as if triggering a fresh soft slab is possible. What's my plan? CORNICES are not to be messed with. They are as big as I can remember and they can crush a skier or rider that either falls over the edge with one.....or crush a skier or rider below. For more thoughts on our current setup, click HERE.
A MODERATE AVALANCHE DANGER exists in the mid and upper elevations. You will be able to trigger both loose dry and soft slab avalanches in steep terrain today. Do not discount the possibility of triggering avalanches well off the ridgelines or on mid-slope breakovers, particularly on some east to south to west facing aspects. Don't let powder fever get to you today. I wouldn't be surprised to hear of a close call today.